Posted by Jennifer (the student) on January 1, 2013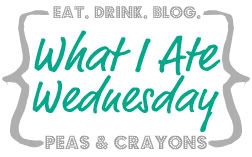 Happy 2013 and Happy What I Ate Wednesday!  I am sharing my meals from last Sunday. We have been having a cold snap, for southern California. We have been waking up to frozen grass, frost on the rooftops and I even had ice on my wind shield. I know if you live somewhere where it snows this is nothing but for us this is really something.
 I hope you enjoy my day.  Thank you to Jenn at 
Peas and Crayons
for hosting the WIAW.
This is what I ate:
Breakfast (6:30am)
I started the day with coffee, in my new mug I received as a Christmas gift. And my husband made scrambled eggs with herbs and cheese and chicken sausages.
Lunch (1:00pm)
A deconstructed stuffed cabbage casserole. It is not very pretty but it is really tasty.
Dinner (6:00pm)
We had prime rib with cream spinach and au gratin potatoes.
Thank you for stopping by. I hope your day was full of healthy meals! 
♥ ♥